This is my contribution to GameLauncher.
I tried the GLMT tools for my own Cabinet project,
but I could not get it to work, and did not like the results of Mamescan,
so I have written TS GameLauncher Tools.
It creates MAME ROM and MAP files for Gamelauncher,
with the options to only create games you have a ROM or/and Screenshot (SNAP) for,
include only MAME working games, and filter games on their names (e.g. bootleg, Japan).
NEW !!
The latest version can now also categorise your MAME games using catver.ini,
and create suitable separate configurations and lists for Gamelauncher.
catver.ini is available from http://www.catver.com
Note: Only works with catver.ini from www.catver.com
NEW !! Now works with latest versions of both. (Use standard version)
Update 7th November 2005.
Updated to work with latest versions of MAME

Download 'TSGameLauncherTools.exe' (655KB)
Version 1.31D - Click Here - [7th November 05]
Written in Delphi 6
Other software by Tom Speirs:
GameEx - MAME, emulator and home theatre PC Front End.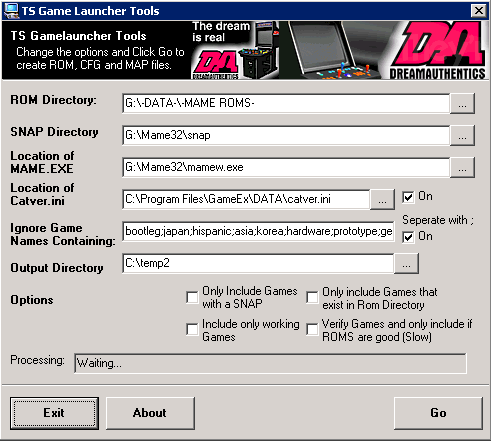 You can report bugs and feature requests to me. Please do.
My email address is on the about page of the application.
Trouble getting the application to work:

The program also uses windows scripting, and that may need to be installed or troubleshooted
on older machines.
In addition ensure you are running a recent version of an official MAME build.
Older MAME builds, and derivatives don't always allow the program to output the game lists
in the correct format, or at all. If the program just stops, it is most likely because it can't find
game lists that should have been outputted by MAME.
Also long path/directory names should work
, but if you are still having trouble - remove spaces and full stops/periods from you paths etc.